Special thanks to Delta Air Lines, James Wilkinson, Mike Addams, Mike Ellenburg, Matthew Goldberg, David Jaqua, Lamonte King, Chuck Wagner and many other friends for contributing so much. I couldn't have completed this work without their assistance. All information posted here is believed to be correct, but without any guarantees. For comments or corrections, please email Ryosuke Yano.
The day when an airliner is retired is as important as the day it entered service with the airline. Over three decades have past since the first Lockheed L-1011 TriStar first took to the skies on November 16, 1970, and the 'El-Ten-Eleven' is now definitely facing the twilight of its carrier. Eastern Airlines unfortunately went out of business in 1991, all original Asian operators have now disposed of the type, and it was only a few years ago on September 3, 1997 when Trans World Airlines (TWA) operated their last L-1011 revenue flight. This past July 31, 2001 was a day as important. It was the day when a period was put to the 28-year success story of the TriStar at Delta Air Lines, the last major scheduled airline to utilize this magnificient trijet since its birth.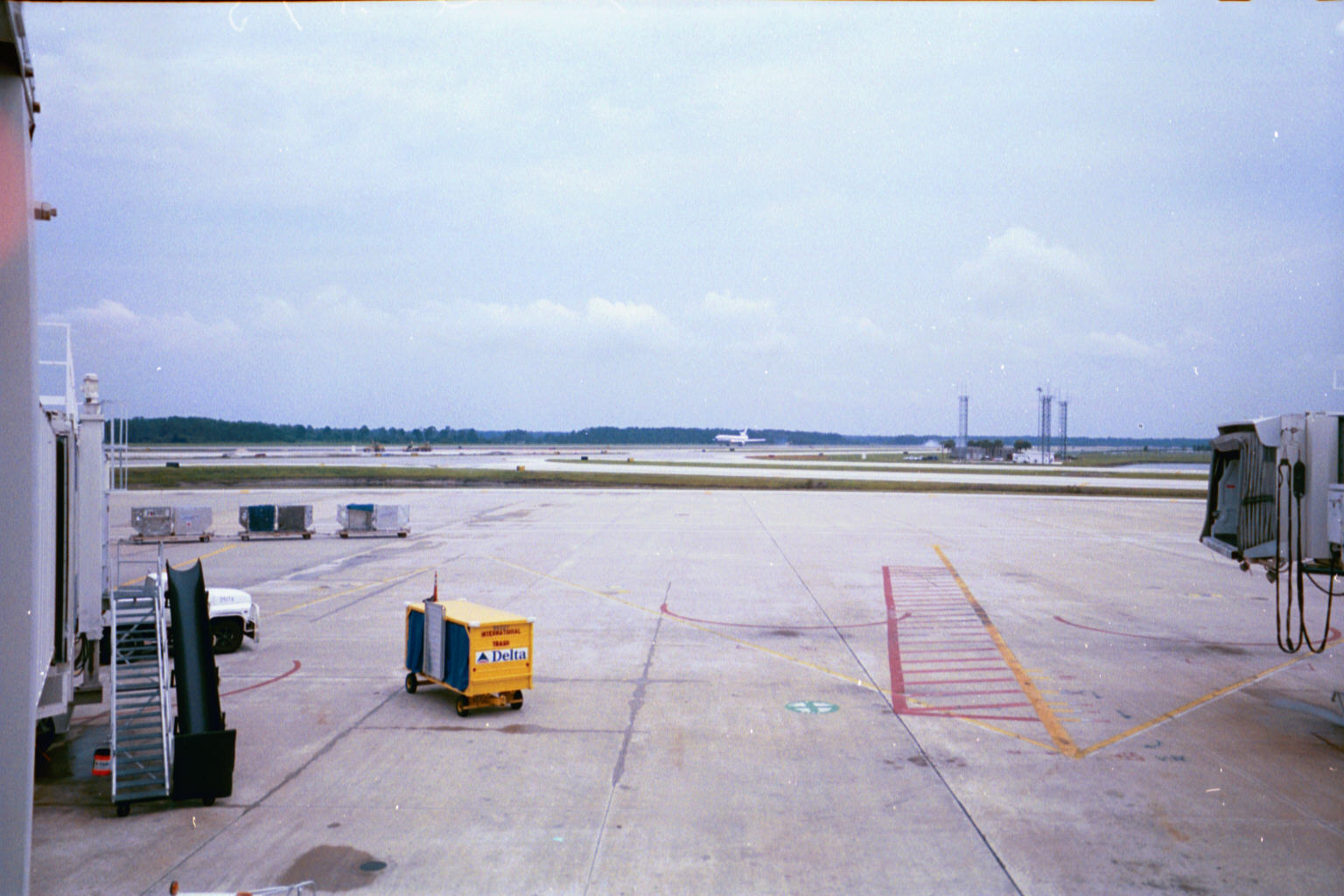 N728DA arriving at Orlando as DL349 on July 31st from Atlanta. Just like an ordinary flight, but probably nobody who coincidentally booked with the flight knew that this was to be Delta's last L-1011 flight until they disembarked, where party decorations were waiting for them.
It was July 31. Before clearing DL349 for takeoff to Orlando, the tower controller at Atlanta asked the crew for their names. Once airborne, the Atlanta TRACON departure controller asked where each of the flight crew were based, and offered a copy of the ATC communication tapes to the crew. The flight, operated by ship N728DA (msn 1173), rotated from Atlanta Hartsfield Airport's Runway 09L at 13:42EST, roughly two hours behind schedule, with only two empty coach seats. True to its reputation of the last few years, the flight was over an hour late arriving into Orlando. It was a very overcast, cloudy, Florida summer afternoon. Gate 71 was filled with balloons and decorations as well as an amazingly large crowd of people. Reporters from local media including television stations were also in the gate area interviewing several people, including Delta pilots. Others at the gate included a large group of L-1011 aficionados, as well as Delta employees of all kinds. There was so much fan fare that some of the passengers asked fellow travelers what was going on as they had no idea that they were about to embark on a historic flight.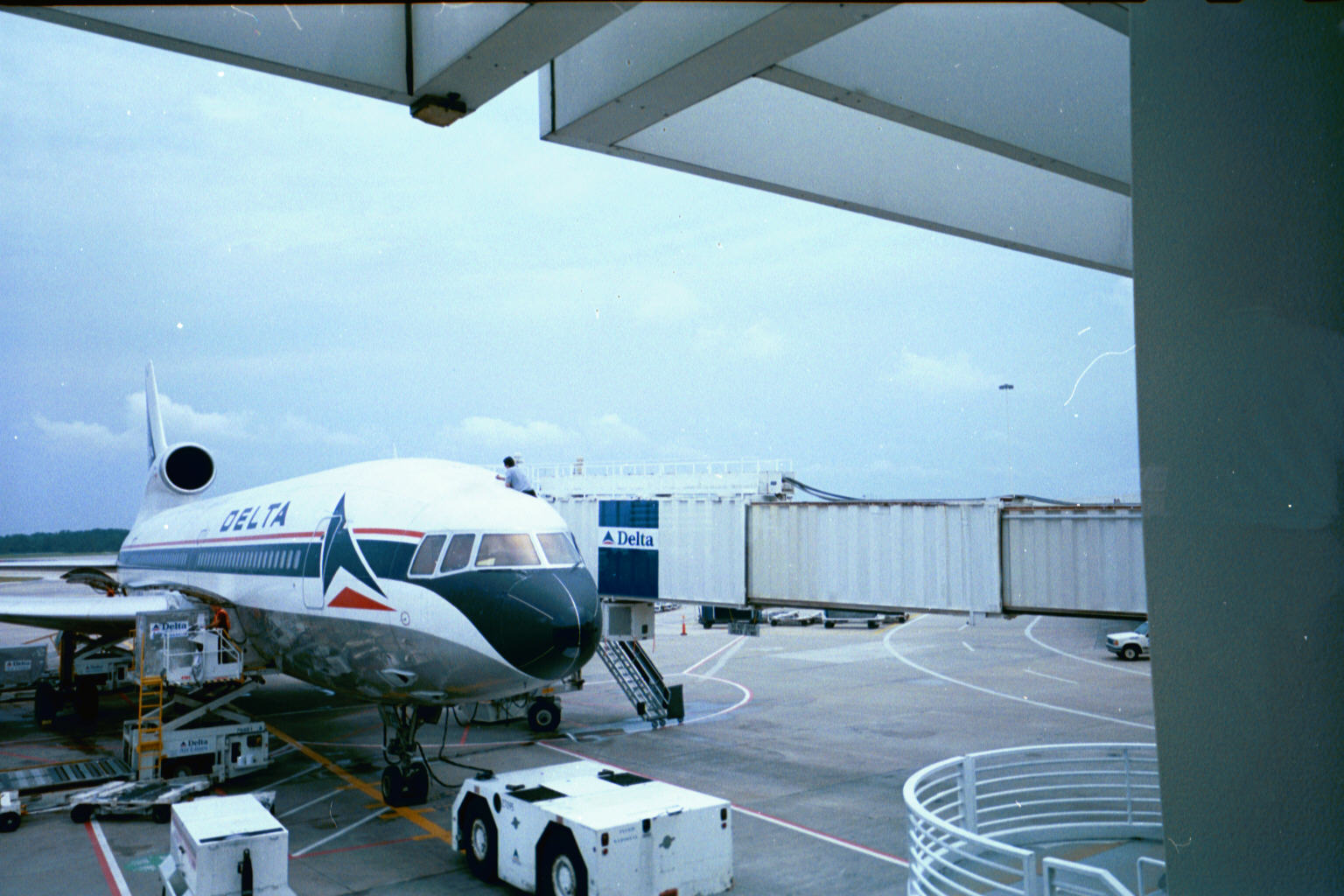 N728DA prepares for DL1949 Orlando - Atlanta, its last revenue flight. Crowds of local media reporters and aficionados filled the gate area. Note one of the crew members signing the aircraft right above the cockpit windows.
Once the aircraft landed at approximately 14:50EST, people rushed to the window to photograph the last arrival of the model of aircraft dubbed "Titanic" in the history of Delta Air Lines into Orlando. The window was filled with observers and photographers from one end to another. Once parked, many other 'VIP's were allowed to sign the fuselage of the aircraft at the front boarding door. Thereafter, the boarding of the aircraft began. There was so much commotion at the gate that it was almost impossible to hear the gate agents announce the boarding instructions. At least half of the passengers were either Delta employees, many of whom actually bought tickets to be on the flight, or L-1011 lovers who were on the flight simply to help make history. Contributor of this report James Wilkinson, who was seated in '42J', recalls that "Never again would I be able to enjoy such great legroom and seat comfort on a Delta flight. The scene inside the plane was somewhat chaotic as well, as no one seemed to be in much of a hurry to do anything except marvel at the aircraft around them."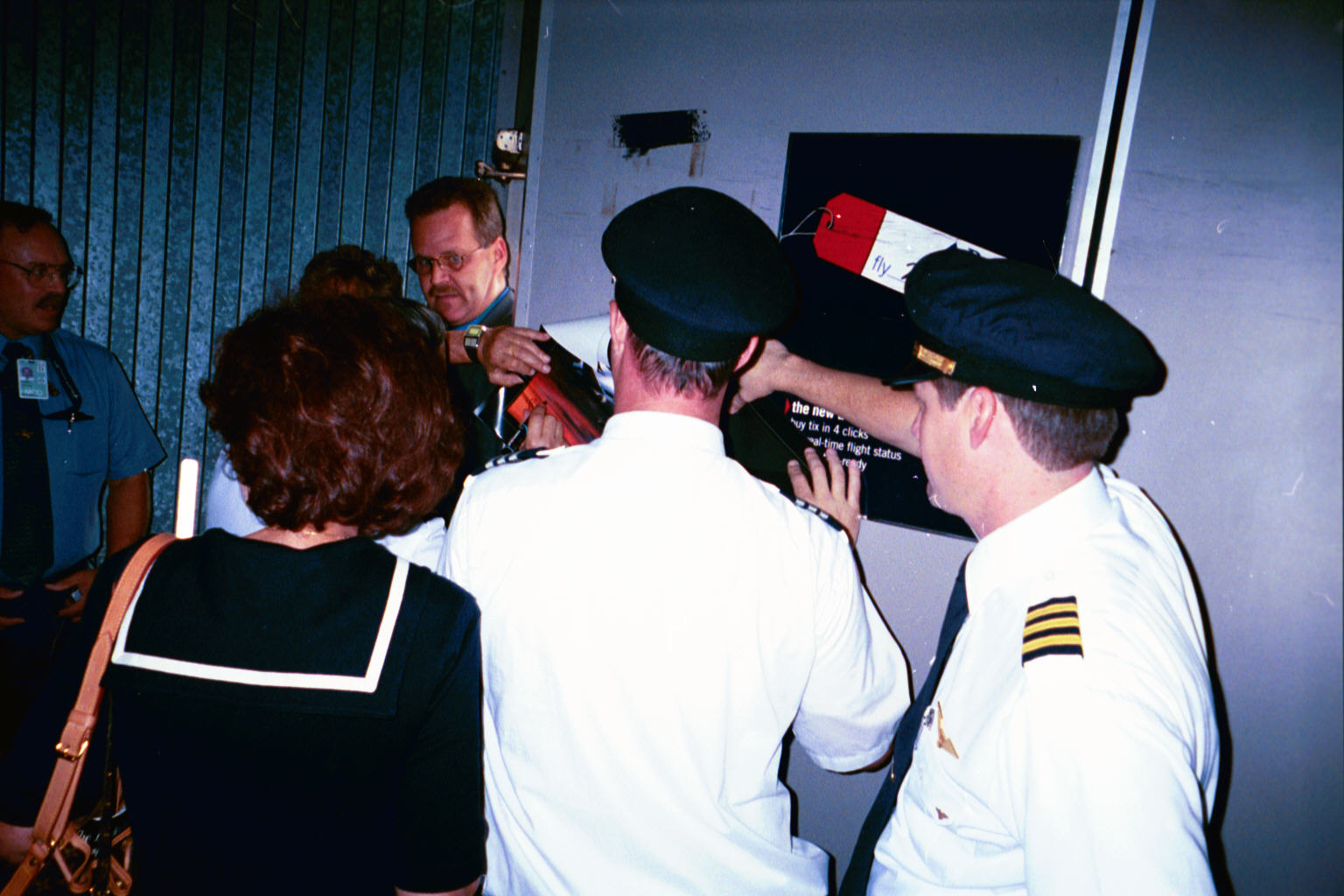 Captain Randall Schmoyer signs a copy of the "End of an Era" poster at the gate before departure from Orlando. He would also end up signing a number of these posters upon arrival at Atlanta.
Finally, at 15:54EST, DL1949 was pushed back, with this flight having only a pair of first class seats empty. "You could hear the special roar of the Rolls Royce RB-211s come to life, followed by the distinct odor that typically is found in a TriStar." said Wilkinson. The aircraft briskly moved down the taxiway amidst a special announcement that this Delta's last flight for an L-1011 as well the last flight for our retiring Captain Randall L. Schmoyer. At 16:10EST, the plane raced south down the runway and lifted effortlessly into the air, quickly making maneuvers to avoid the rain clouds. It took some time before the plane was out of the rough weather and thereafter a special version of Delta's "fast break" service was served in coach, featuring champagne. After a toast to the L-1011 by a Delta executive, the plane started its decent. It was typical of the L-1011 that as we cruised to Atlanta, we visibly passed other aircraft. A true testament to the speed of this marvelous bird.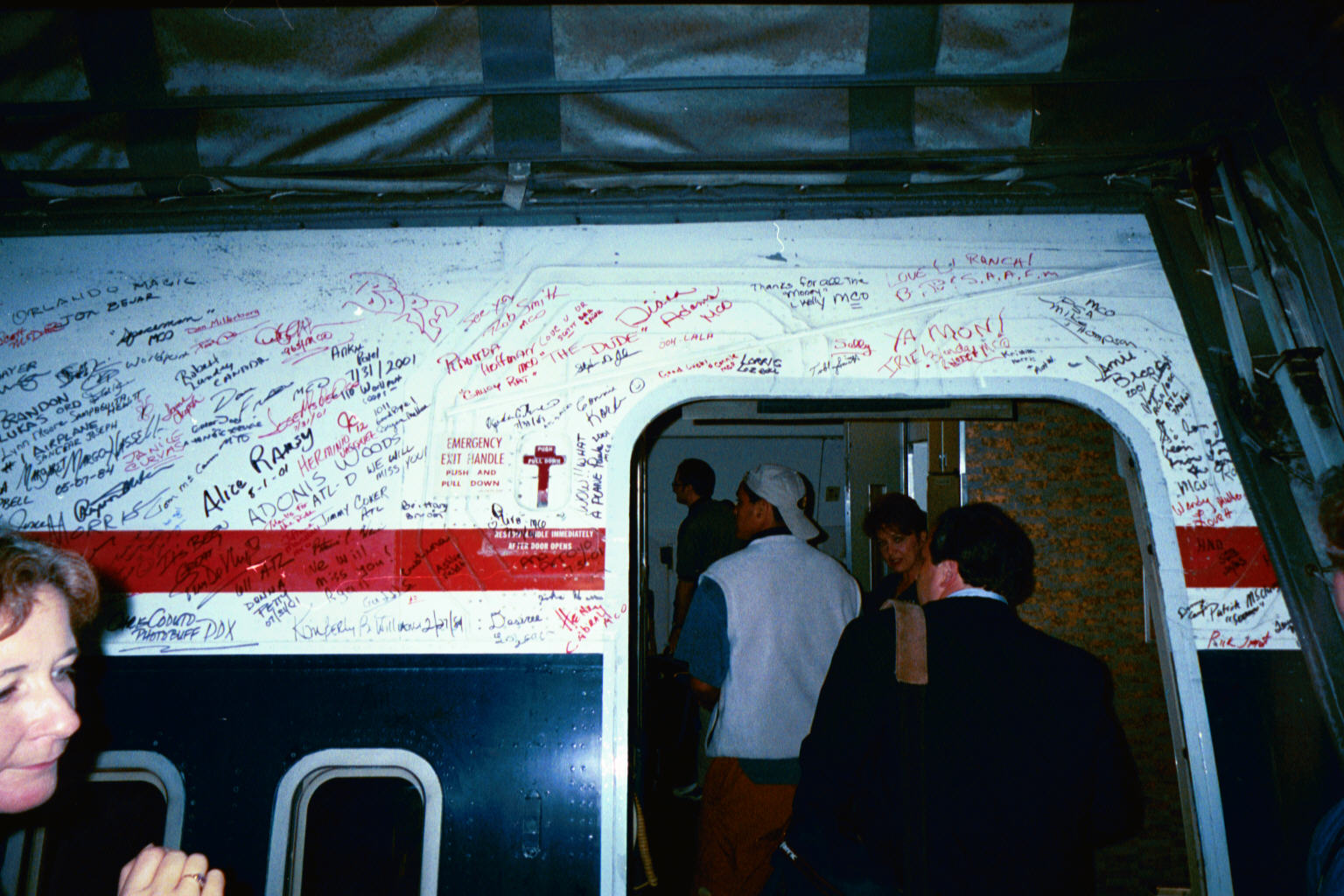 Passengers start boarding N728DA for its last revenue flight. Note the signatures all around the number one door. It certainly does look something special!
At 17:01EST the plane touched down at Atlanta's Runway 09L, the same runway it had taken off from earlier in the day. It arrived at Gate T1 at 17:19EST, and received a water cannon salute, courtesy of the Atlanta Fire Department. Once the door was opened for the last time to allow revenue passengers to disembark, several TriStar lovers began signing the interior of the plane with notes of appreciation. Many people also took safety information cards and other trinkets as they exited the plane. Once off, certificates and posters were passed out to arriving passengers. The crew sat at tables setup at the gate area for over an hour signing these posters, pictures, and the safety cards. As in Orlando, balloons and streamers were at the gate as well as many people who came out simply to see the old bird retire. It was a sad but festive time. As the aircraft sat at the gate it was obvious it had seen over 30,890 flights. The side of this plane was dented all over and the paint was so dirty and fading it looked as if the aircraft had been retired long ago. Still, this was a wonderful flight and aircraft. "The L-1011 remains the most comfortable plane I have ever flown." said Wilkinson.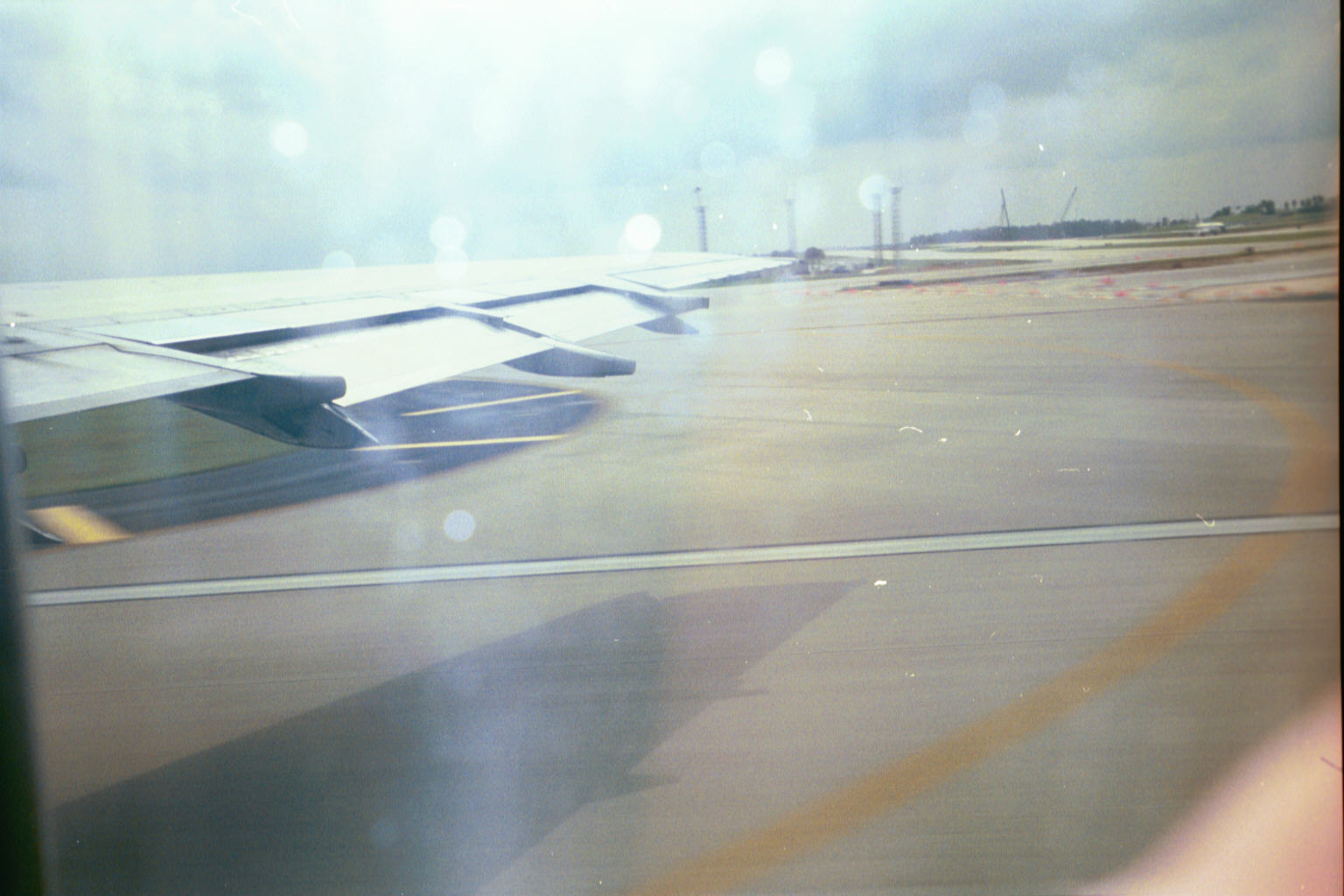 Takeoff! A shot taken right at the moment!
After all the celebration at the gate was over, the aircraft received cabin cleaning, and was then towed away to the TOC maintenance center. Ship N728DA was on display until 22:00EST for Delta employees and retirees, Lockheed Martin and Rolls-Royce guests. Commemorative posters were on sale for $5 dollars, benefiting the Delta Heritage Museum, and Flight Station had a selection of historic TriStar merchandise. Posters were also available at the museum offices between Hangar One and Hangar Two at the G.O., and were also on sale during the ceremony at the TOC. Rolls-Royce has commissioned an original oil painting that was presented to Delta that night. For a $1 dollar donation to the Habitat for Humanity, participants were permitted to sign the aircraft exterior. Here, a Delta employee was able to invite one non-Delta guest.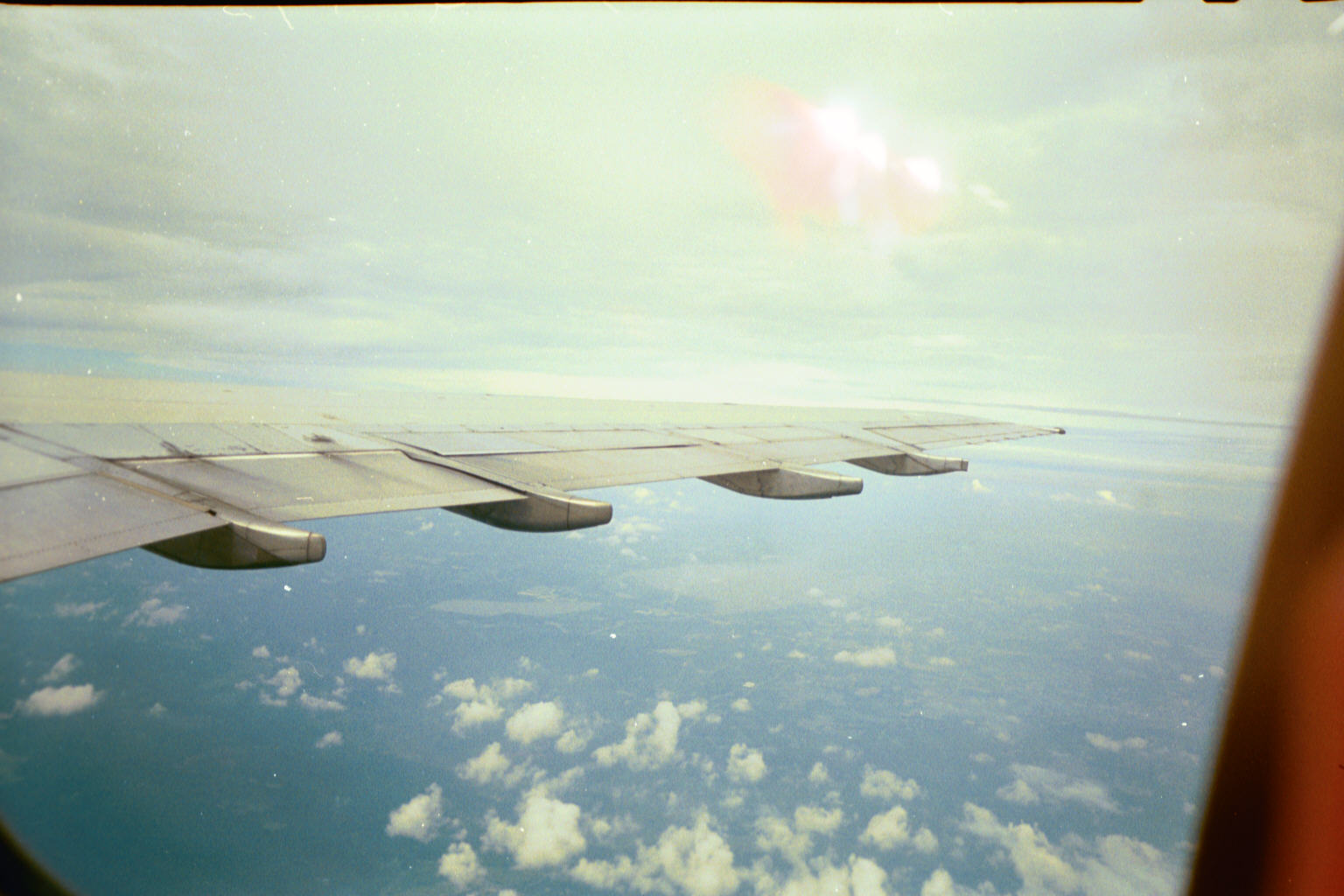 Midflight! N728DA is probably flying somewhere over southern Georgia. It was a sunny day.
On the morning of the following day, on August 1, N728DA was towed to Gate A2 to prepare for the last, and true final flight with Delta. Given the flight number DL9930, this was a one-way charter flight to Victorville, California, where most of its recently-retired L-1011s are stored. A contest was held earlier among Delta employees, where they had to donate at least $5 dollars to United Way to enter, and some 250 lucky employees were riding on the aircraft from Atlanta to Victorville on the ferry flight. The nose art "Delta Belle", which was placed just below the cockpit windows exclusively for the occasion, along with several other signatures, could be seen. The aircraft was scheduled to depart at 10:00EST, and before it head west, it performed a low-level flypast at Atlanta. It was planned for arrival at Victorville around 12:00PST. Before landing in the Californian desert, the aircraft performed another flypast. At the airport, there was a smaller celebration in one of the hangars to say the final farewell, followed by buses which left for Los Angeles to get every one back home on flights.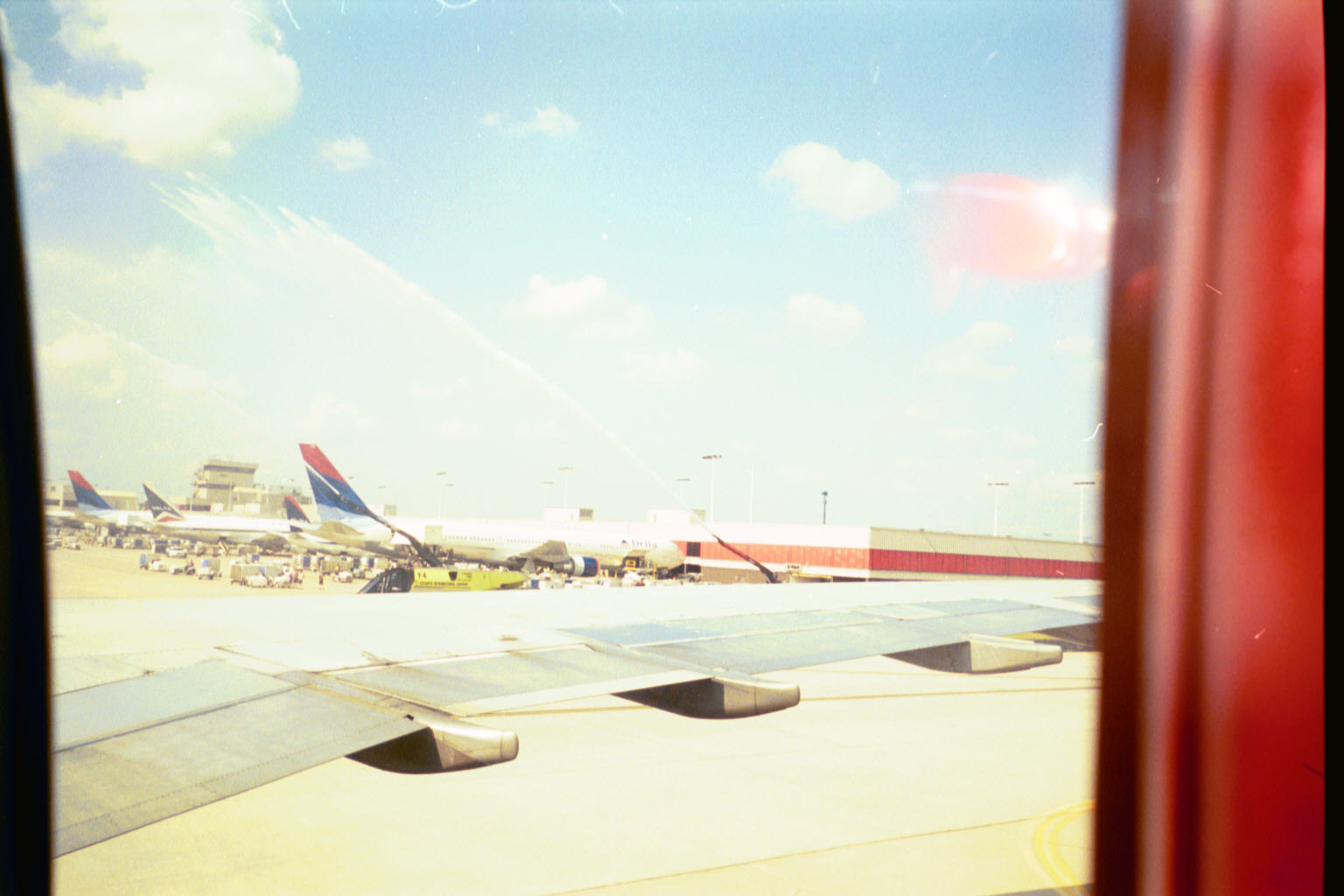 N728DA receives the traditional water-cannon salute upon arrival at Atlanta.
However, N728DA never joined the line of Delta TriStars at Victorville. Two days after the retirement, on August 3, the ship was ferried to Evergreen's Pinal Air Park in Marana, Arizona, opening the way for the donation of the aircraft to support The Flying Hospital organization. The actual 'Flying Hospital', P4-MED (msn 1064), which is a completely redesigned L-1011, is an outpatient surgical facility dedicated to addressing the unmet medical needs of populations around the world. The aircraft has completed missions in places such as Ukraine, Kazakstan, Russia, many Latin American countries and a 68-day "World Journey of Hope" tour to 19 countries around the globe. The L-1011 was commissioned in Washington, D.C., by former President George Bush in 1996, and since that time has operated as a self-contained, fully-equipped airborne hospital with four operating stations, pre/post operation recovery area for up to 12 patients, pharmacy, diagnostic equipment and a waiting room/check-in area. The forward cabin has 67 seats for classroom use. "Delta is committed to providing resources for programs that promote the health and well-being of our youth, and The Flying Hospital is an excellent opportunity to do that on a global basis," said Mike Young, Delta's vice president - Community Affairs. "We are pleased that one of our beloved L-1011s will go on to serve such a meaningful purpose after its retirement from Delta Air Lines." he continued. "Delta's gift of a Lockheed L-1011 aircraft with spare engines and parts ensures that our program, The Flying Hospital, can expand its abilities to provide even more medical care to thousands of people in areas that are medically under-served around the world," said Walter M. Frehe, President and CEO, The Flying Hospital, Inc. "Since its inauguration in May 1996, The Flying Hospital has flown to 27 nations and conducted 12 full medical missions," Frehe said. "Our all-volunteer medical staff has provided more than 92,000 medical procedures. During each two-week mission, The Flying Hospital medical staff completed an average of 10,000 medical procedures." Fortunate, or unfortunate, the final Delta L-1011 will be dismantled for spare parts at the Evergreen Air Center to keep the "Flying Hospital" in the air.

Many Delta employees and media reporters meet N728DA on the tarmac upon arrival at Atlanta. Note the water-beaded window created by the water-cannon salute.
The L-1011 has done so much for Delta that you can never tell the story of the airline without touching on the aircraft. Delta has operated a total of 70 different L-1011 airframes in the past 28 years, although the maximum in service at one time peaked at 56 in 1991. They were also the only major airline to operate all four variants of the L-1011 Ð the L1011-1, the L-1011-200, the L-1011-250 and the L-1011-500. Seating configurations varied, with 32 first + 270 ecomony on the L-1011-1, 32 first + 265 ecomony on the L-1011-250, 24 first + 217/219 ecomony on the L-1011-500. The three-class L-1011-500s had two configurations; 12 first + 23 business + 183 economy and 12 first + 35 business + 170 economy. Click here to view the seat configuration of a typical Delta L-1011-1. Also view seat configurations of the L-1011-250 and the L-1011-500.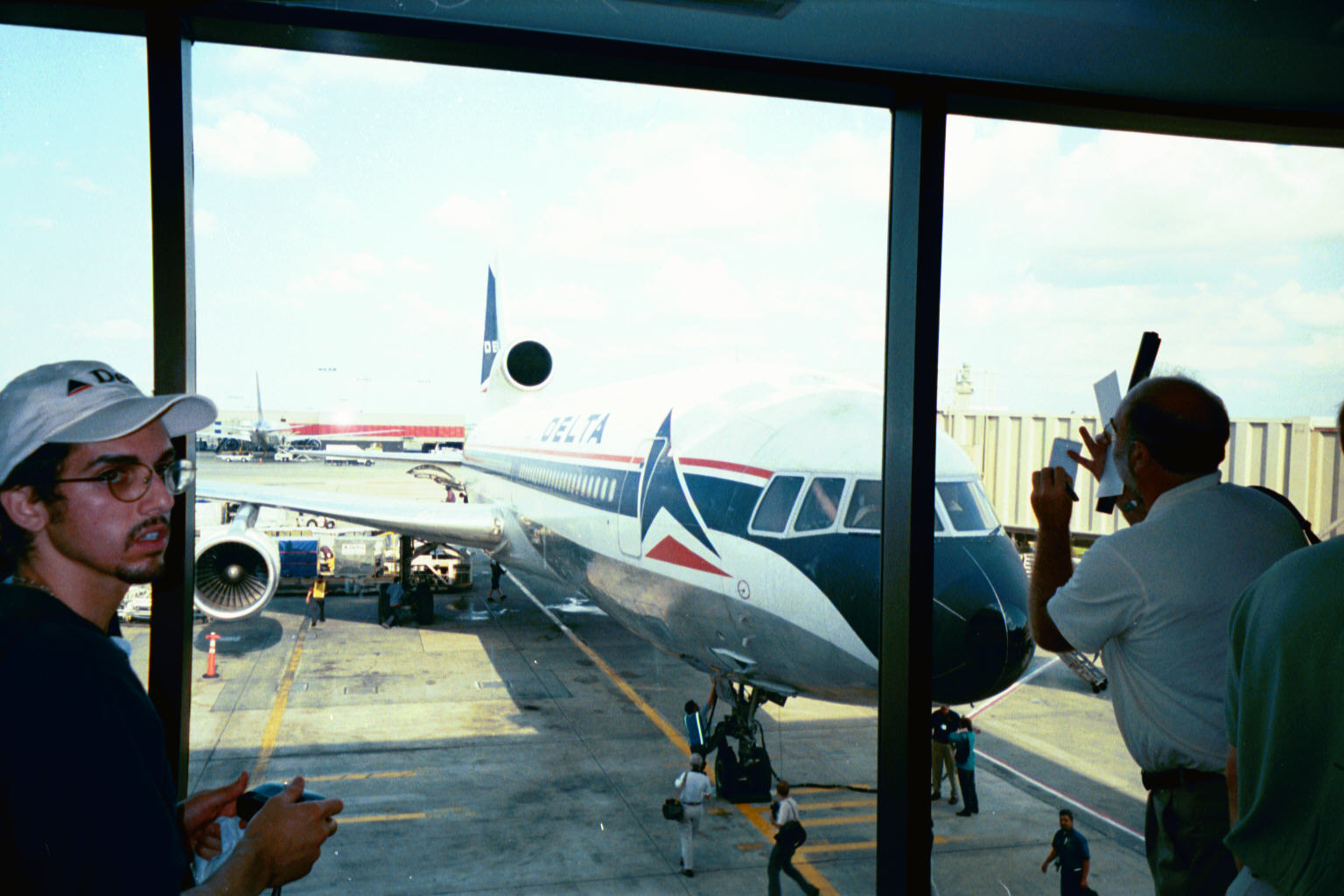 Final arrival of a Delta TriStar: N728DA at Atlanta. Note the maintenance worker signing the door on the front landing gear. The plane would receive additional signatures later when it is presented to the employees for final view at Delta.
The first Delta L-1011, N701DA (msn 1041) rolled off the assembly line in Palmdale on September 7, 1973. It was delivered on October 3, 1973, and first revenue service of the type was operated by N702DA (msn 1046) on November 15, 1973 from Atlanta to Philadelphia. A pair of Trans World L-1011s, N81028 (msn 1108) and N31029 (msn 1109), were leased temporarily between April 1978 and spring 1980 to augment Delta's then-fleet of 21 TriStars. The L-1011 inaugurated Delta's first transoceanic flight, Atlanta-London Gatwick, on April 30, 1978, followed by its first transpacific service, Atlanta-Portland-Tokyo, on March 2, 1987. Other notable inaugurations flown by Delta L-1011s include Dallas Ft. Worth-Honolulu, December 14, 1984; Atlanta-Honolulu, June 1, 1985; Portland-Seoul, December 15, 1987; Portland-Taipei, July 1, 1988; Portland-Bangkok, December 15, 1989. Delta took delivery of its last new L-1011, N741DA (msn 1245) in May, 1983, and this was the airline's 44th TriStar acquired new from the manufacturer. In addition to these new aircraft, Delta acquired a number of L-1011s from Pan Am, United and Eastern between 1984 and 1991. N726DA (msn 1163) was lost in a weather-related accident while approaching Dallas Ft. Worth on August 2, 1985.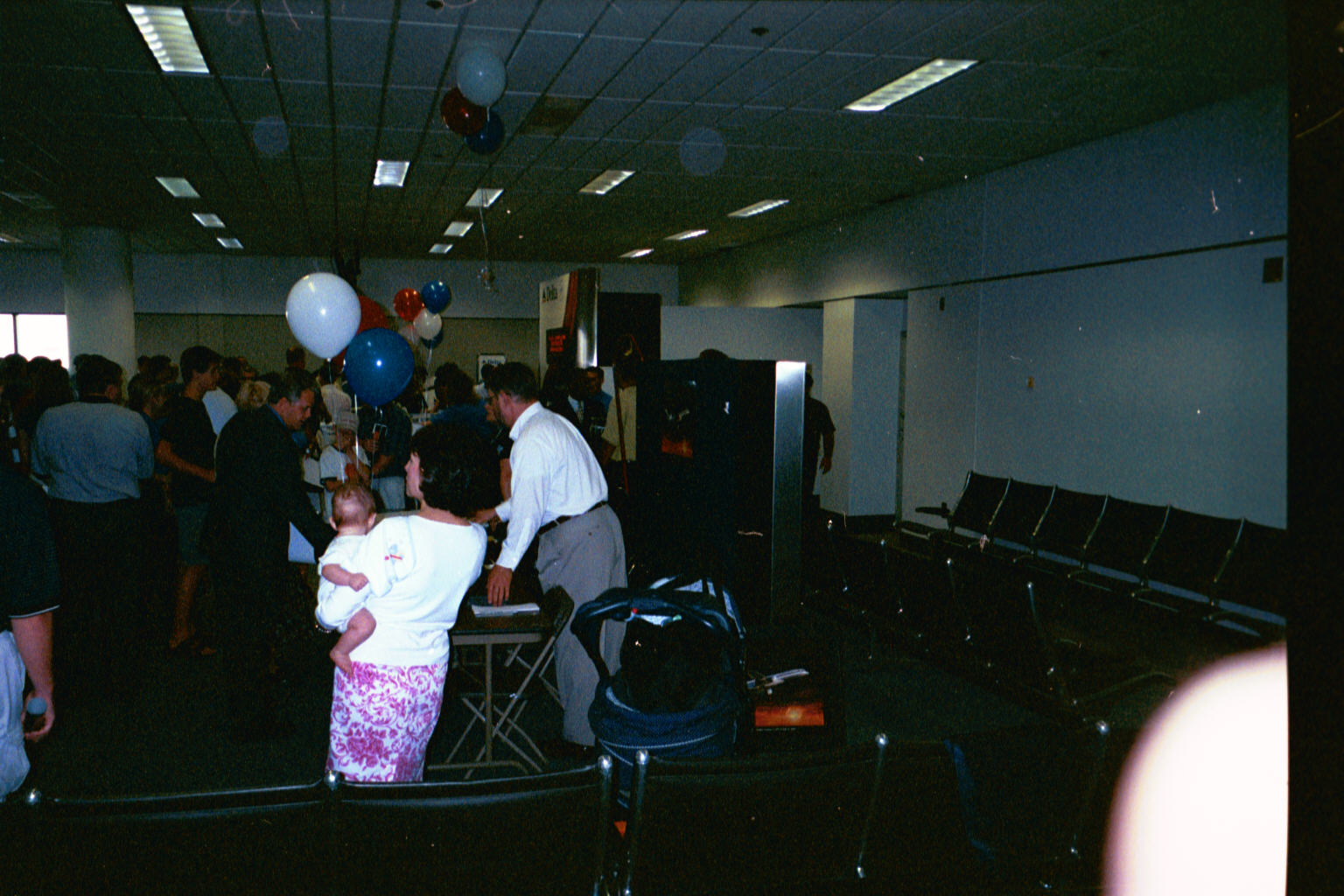 A big farewell party was held at Gate T-1. Crew members signed posters and TriStar goods and N728DA received tons of flashes. It was certainly a farewell.
However, in the mid-1990s, Delta realized that they were needing a large fleet of new widebodies to start replacing their fleet of over 50 aging TriStars. Large orders were placed for Boeing 767s to replace them on the transatlantic routes, and McDonnell Douglas MD-11s to replace them on the transpacific routes. The first formal retirement of the TriStar came in July 1996, when N789DL (msn 1141) was retired to Mojave. Since then, the fleet had gradually been reduced, and Delta's last transoceanic L-1011 flight was on November 30, 1998, from Vienna to Atlanta as DL147. By spring 2000, the fleet had shrunk to 24. As more Boeing 767s were delivered and the new Boeing 777 introduced, the L-1011 rapidly gave up its places to these more modern jetliners of today, there were only 15 remaining in January 2001. The last L-1011-500 revenue flight was operated by N755DL (msn 11874) on January 8, 2001, as DL1886 from Los Angeles to Atlanta. By that time, a substantial number of the mass-transit Boeing 767-400ERs were being delivered, and the L-1011 retirement pace averaged an amazing two to three aircraft per month. The L-1011 gave up being the backbone of Delta's Hawaiian services on March 31, 2001 when DL16 departed from Honolulu to Dallas Ft. Worth at 18:25HST. For the record, the last flights from the last served cities were; Los Angeles on June 30 with DL1886 to Atlanta, Dallas Ft. Worth on July 8 with DL476 to Ft. Lauderdale, Ft. Lauderdale on July 9 with DL1494 to Atlanta, West Palm Beach on July 30 with DL1958 to Atlanta.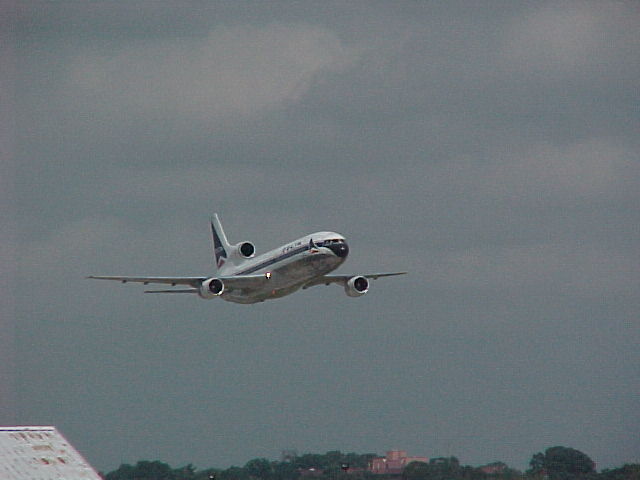 N728DA peforms the final flypast at Atlanta on August 1 soon after lifting off. The aircraft soon headed towards Victorville. Note the small "Delta Belle" nose art, which was applied exclusively for the occasion.
July 31, 2001 was a sad day in aviation history, and a sad day at Delta. The TriStar was the airplane that made Delta grow from a domestic airline up to a trully global carrier. The graceful, powerful trijet served Delta customers by the millions, setting milestones along the way, during its tenure from 1973 to 2001. Her stylish tail and S-Duct with the famous "Widget" was seen at a total of 79 domestic and international cities. She helped Delta become the carrier it is today by giving them international aspirations and then fulfilling those dreams. She has served with dignity and grace, but also with remarkable safety. She really is a grand old lady, and let us all wish her well in her retirement.

So long "El-Ten-Eleven"...thank you for the 28 years...

This article was posted on: August 18, 2001